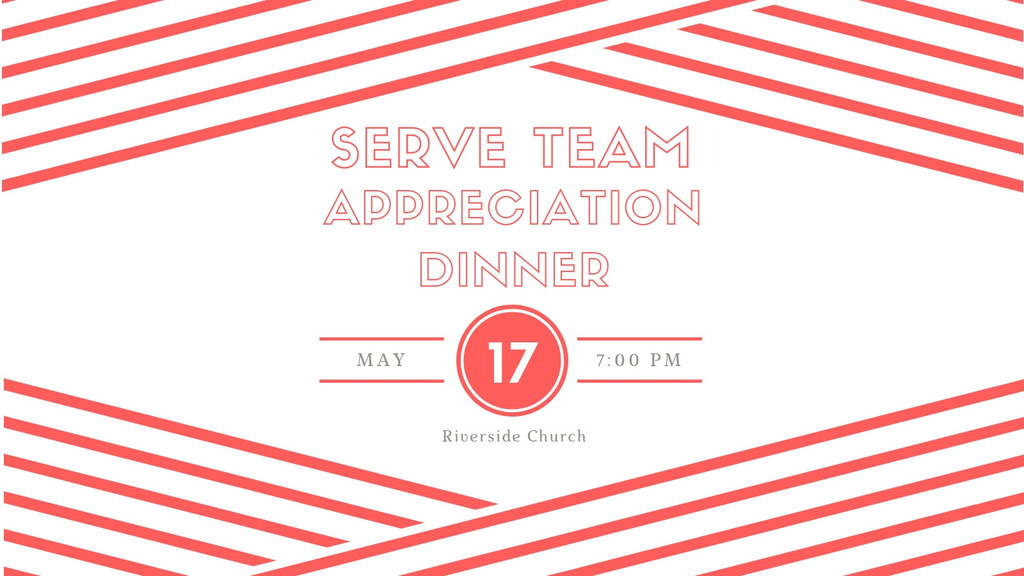 Serve Team Celebration Dinner
May 17, 2019 at 7:00 PM
SERVE TEAM CELEBRATION DINNER
Join us as we celebrate YOU - the incredible men and women who serve faithfully on the Riverside Serve Teams!
This RSVP-only dinner is happening Friday, May 17, 2019 at 7 p.m. at Riverside Church. We will enjoy a catered dinner, fun activities and much more as we honor our many Serve Team members. Attire is casual and childcare is available. Please RSVP by May 3, 2019, by clicking the button at the bottom of the page.
We are so excited to celebrate your faithful service to the Riverside family. This dinner is a small way for us to show our appreciation to you. You do not want to miss out on this awesome night!
If you would like childcare, please follow these instructions.
When you RSVP, write your child's name and age in the comment section.
We love all our Serve Team members and how well you serve God's people at Riverside.

Riverside Church